Lebanon
First Appearence
ESS #1
Best Finish
10th ESS #5 QF (DSQ) (DNQ)
Worst Finish
18th ESS #1 Final
Apearences
2
Natural Selection
None
Related Countries
Poland
Lebanon Debuted on the First edition of the Eurovision Songs Simulator,Qualifiying for the final with 66 Points with a 12th place finish
In the final,it ended 18th with 54 points,later a Rule was Made for Only European countries to participate (This rule made an exeption for Israel,which debuted in the ESS #2 beacuse it was inside the European Broadcasting Union)Even trough that Lebanon was in the EBU,lebanon Did not participate untill ESS #5 when the rule was removed,and countries from all over the world was able to participate,In ESS #5 Lebanon was Disqualified for not voting before the deadline,It ended with 36 points,and ended in 10th spot beacuse Germany(Who would qualify but didn't vote in time) Had the 11th spot with 60 Points.
Due to the rule of only European countries,Lebanon had to leave,but this rule was an exeption to Israel and Morroco which would debut on ESS #3 Lebanon only returned for ESS #5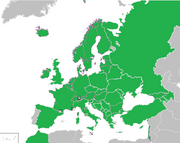 Lebanon had 2 participations,ESS #5 and ESS #1,Lebanon is already confirmed for ESS #6
ESS
Artist
Song
Final
Points
Semi
Points
Quarter
Points
#1
Eric Saade
"Popular"
18th
54
12th
66
#5
Cascada
"Hurricane"
X
X
X
X
DSQ
36
#6
Danijela
"Neka Mi Ne Svane"
TBD
TBD
TBD
TBD
TBD
TBD
Ad blocker interference detected!
Wikia is a free-to-use site that makes money from advertising. We have a modified experience for viewers using ad blockers

Wikia is not accessible if you've made further modifications. Remove the custom ad blocker rule(s) and the page will load as expected.